BANKSY DOES NEW YORK (review)
Directed by Chris Moukarbel
Luna Park: It was like a giant scavenger hunt in New York City and we were all pawns…we all played along beautifully.
In October 2013, elusive British street artist Banksy held a residency in New York City. Each day, a new exhibit – ranging from stencilled wall art to elaborate sculpture and everything imaginable in between – would suddenly appear in one of the city's many neighbourhoods. Clues would be posted on the artist's various social media accounts, and the "Banksy Hunters" would be off and running to find and photograph whatever unique display he had created for that particular day.
Director Chris Moukarbel details this interesting study of both visual art and human behaviour in his documentary BANKSY DOES NEW YORK. And while the diversity of pieces created by Banksy for the project is curious enough in its own right, the far more intriguing aspect of the film is the effect this project had on the people of New York City.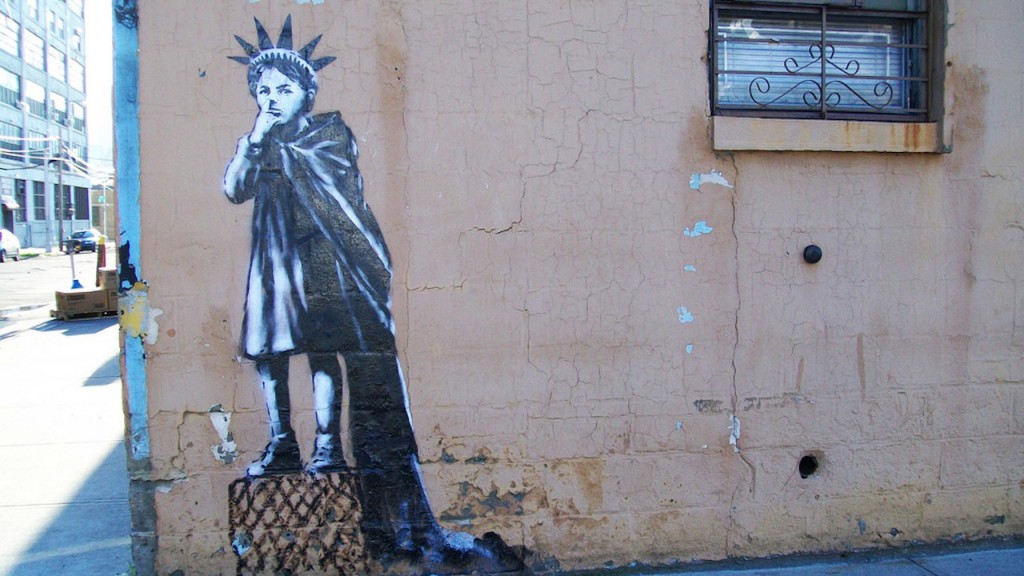 Take, for instance, the day the famous artist decided to launch a pop up shop in Central Park with an array of his original works. Staffed by a random elderly gentleman he hired off the street, each piece was being sold for $60. Even as scores of fans scoured the city for evidence of his work, video footage relayed countless passersby ignoring this man and his wares, with only three customers ultimately making a purchase throughout the day. Those paintings listed at $60 were actually valued at $250,000 each. Banksy posted the footage on his social media accounts the following day, much to the frustration of his followers.
Then there were those who had no idea who this "Banksy" person was but figured enough from the gathering crowds to jump on the bandwagon. Many simply saw a financial opportunity rather an artistic venture. As fans watched in dismay, one group of men actually loaded a piece into the back of their van and set off to find a buyer. Other days saw disgruntled New York street artists defacing Banksy's work in a fit of sour grapes. And for most of the month, the NYPD was tasked with tracking down the artist they viewed as a vandal.
These are just a few of the phenomena unleashed by the mysterious figure's residency as detailed in BANKSY DOES NEW YORK. More than simply the profile of a renowned street artist's time in a cultural wonderland, it's a snapshot of the human psyche; and one that will appeal to both those who are familiar with Banksy's work and those who are not.
Your turn!
How many sheep would you give Banksy Does New York?