THE BLACK SHEEP INTERVIEW: INGRID VENINGER (THE ANIMAL PROJECT)
GETTIN' FURRY WITH IT
An interview with THE ANIMAL PROJECT writer/director, Ingrid Veninger
One of Canada's leading female filmmakers, Ingrid Veninger, has been delighting local and international film lovers with recent films, MODRA, and I AM A GOOD PERSON/I AM A BAD PERSON. Her latest film, THE ANIMAL PROJECT, opened to critical acclaim at last year's Toronto International Film Festival and is being released this Friday at the TIFF Bell Lightbox in Toronto. Veninger is also the founder of the pUNK Films Femmes Lab, which with funding from Oscar-winning actress, Melissa Leo, will fund the screenplays of six Canadian women. Earlier this week, I sat down with Veninger to discuss he unique new film and the role of women in today's film industry.
In THE ANIMAL PROJECT, a group of actors, led by Leo (Aaron Poole), roam the streets of Toronto dressed in animal mascot costumes and Veninger's creative process is just as strange and unique as the film it bore. She explains, "I didn't have an idea for a movie. I put a call out to all the agents in Toronto through a casting director (Nicole Hilliard-Forde, TOUCH OF PINK) and one hundred actors were willing to meet with me. Out of those hundred, I selected these eight that I promised roles to and then I sat down and wrote the script. I believe that eight different actors would've generated an entirely different movie."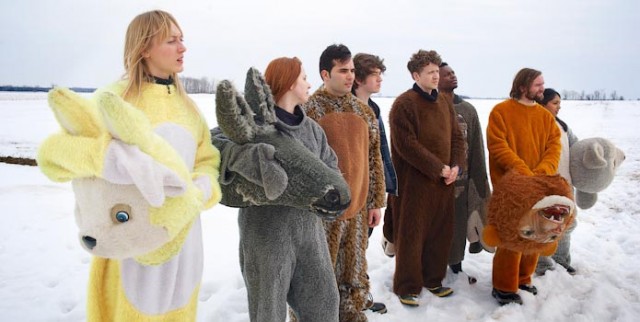 The city of Toronto does not only act as the backdrop for the film, but in many ways feels like its own character. "I sort of felt like I wanted to shoot a film where I live and wanted to see what that would look like through my lens. I also wanted to visit some spots that I really cherish and love, like the Honest Ed's corner, Sonic Boom, and the Monarch Tavern which is a place I really love, also Toronto's beaches, and Vesta Diner." Veninger had clearly been waiting to use those locations, as the film was the first she had shot in Toronto for quite a few years. She continued, "All of those places that I love I wanted to celebrate in the film in a way I haven't seen before, and then put people in animal suits on top of that and see what that combination breeds."
While the film is not autobiographical, Veninger did come up with the animal costume idea the same way her protagonist does in the film. She describes the conception of the film, telling me, "I actually had that dream. I often do a lot of writing in the waking sleep state where you're not really sleeping but not really awake, and I write a bunch of notes on my bedroom wall. I had that dream of six people dressed in animal suits against an expanse of snow and that become a tent pole for the movie."
The film has been a success at festivals around the world, but Veninger still worries what the reactions will be when the film is released. "It could've been a pointless humiliation, so we'll see what people think. I've been incredibly surprised by the reception it has gotten at film festivals around the world and how people have engaged with it." The narrative of the film is simple, but as Veninger explains it really covers a lot of ground. She says, "It's a film about vulnerability and intimacy and connection and authenticity and parents and their kids and friendships and lovers. But really it's about connecting with people and how those connections maybe lead to creativity that I think speaks to this moment in time where we're all so isolated and alienated by our technological devices."
It's so rare to see small, low budget films getting distributed today and Veninger explains how simply making the film is not the only thing that must be done anymore. "The truth is it's really, really a lot of work. Whether you have distribution or not, it's a year of full-time work from when the film is completed, I would say five to ten hours a day, to handle that film's life in the world. Sometimes films are just orphaned because people move on to different projects. So I sort of feel like we don't have a quality problem as much as we have a promotion problem in general. By the time you finish your film you're broke, you're exhausted, and you're excited to move on to the next thing. So to commit another year is a big deal."
THE ANIMAL PROJECT is not only significant because it is a great film made in Canada, but also because it is a great film made in Canada by a woman. "Well, my experience is that I haven't felt stopped by being a women. Then again, I haven't been asking for millions of dollars; my films are very modest and small." While Veninger doesn't feel that sexism has affected her personally, she certainly recognizes that it is a problem, saying, "Is there an incredible imbalance and would I like to see fifty-percent of the films we see on screen written and directed by women? Hell yes, I would! Do I think there should be quotas that regulate that? I don't know. The pUNK Films Femme Lab is a part of that; it's going to be generating six new scripts by six Canadian women that will hopefully all go to camera next year. We have to kind of do more in bigger numbers and then we will start to turn the tide, but it's a lot of work."
THE ANIMAL PROJECT open in Toronto on Friday, June 6. Veninger and the cast of the film will be hosting Q+A screenings on Friday, June 6 and Saturday, June 7, after the 7:15 screenings. Be sure to support local filmmakers!
Note: A couple days after I spoke with Veninger, she contacted me on Facebook about her response to one of my questions. After seeing a section of books at Indigo under a sign reading, "Every Man Has a Story" Veninger stated, "I thought about your women in film question and because I generally resist rules, I don't like the idea of quotas regulating more films by women, but maybe we have to force the issue in order to get results."