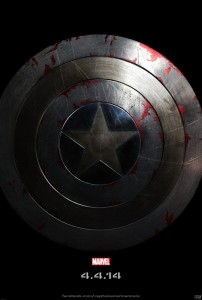 CAPTAIN AMERICA: THE WINTER SOLDIER
Written by Christopher Markus and Stephen McFeely
Directed by Anthony Russo and Joe Russo
Starring Chris Evans, Scarlett Johansson and Robert Redford
Natasha Romanoff: Can anyone direct me to the Smithsonian? I'm looking for an old fossil.
Since the arrival of IRON MAN in 2008, Marvel has certainly exceeded its own expectations when it comes to developing their unique universe on screen. They've excited their many fans around the world by showcasing some of their strongest material and featuring so many of the heroes, and villains, that we as fans have always wanted to see come to life. With CAPTAIN AMERICA: THE FIRST AVENGER being an enormous disappointment to many fanboys out there, including this one, Marvel had to impress so as not to lose anyone's interest with their next outing. I think we can all agree, THE AVENGERS certainly achieved that goal. Since Marvel's Phase Two started with IRON MAN 3 and THOR: THE DARK WORLD, audiences have been treated to a much darker superhero world. Thankfully though, CAPTAIN AMERICA: THE WINTER SOLDIER alleviates some of that darker tone and keeps Phase Two on a good pace toward AVENGERS: AGE OF ULTRON. To say that THE WINTER SOLDIER is much better than THE FIRST AVENGER is a gross understatement. In fact, it may actually be the strongest standalone Marvel film to date and arguably even better than THE AVENGERS. Go ahead; you can argue now.
When we last saw Captain America (Chris Evans, reprising his role), it seemed as though his past was behind him, like any threat he knew from before joining The Avengers was long gone. He survived 70 years frozen in ice, so it shouldn't be impossible for that past to catch up with him in the present. That threat is The Winter Soldier, who, without giving away too much, is a supposed to be a myth, a ghost who has been killing for five decades. He is as strong and precise as the Captain is, which makes him incredibly dangerous. Directors, Anthony Russo and Joe Russo, interweave the Captain's past so perfectly with his present, that we are invited into the psyche of a superhero like never before. Yes, Iron Man's alter ego, Tony Stark has always had his demons, but Captain America was asleep for 70 years and lost everyone he ever held dear. Take this reclusive hero and throw him into another fire with another new threat he has yet to understand and there are bound to be some obstacles that will be hard for him to get past.
THE WINTER SOLDIER, unlike its predecessor, creates a story that is bigger than just the immediate danger at hand. The character of the Winter Soldier is not even introduced into the movie until roughly thirty minutes in and he doesn't make any significant impact until about a solid hour into the film. This allows us to see Captain America is his new world, which gives insight into a troubled history that is far more crushing than any single advanced ghost solider could be. THE FIRST AVENGER placed its villain, Red Skull, front and centre, which allowed no time for us to get to know the man behind the shield. THE WINTER SOLDIER still has similar elements and plenty of thrills but it does not rely fully on the action and overt threat to drive the film.  As a result, a character that was once stiff is given the time to grow.
Earlier, I made a bold statement claiming that CAPTAIN AMERICA: THE WINTER SOLDIER is a better film than THE AVENGERS. Allow me to explain. THE WINTER SOLDIER creates similar dynamics between its hero and its villain, like the complicated fraternal relationship between Thor and Loki, but, without the distraction of so many other super-egos, I mean, heroes to focus on, we are allowed an intimacy that is a rarity in these types of films. The backstory we are given allows us to empathize and understand the Captain and his relationship to his villain in a unique way. When we find out his true identity, Captain America's entire world is thrown into shock and falls apart, his haunted past turned against him in a way he never thought possible. In THE AVENGERS, this extra level of complexity only exists between Loki and Thor; all the remaining Avengers just have a villain to stop. In THE WNTER SOLDIER, the only person who is deeply affected and changed by the villain's actions is our hero, Captain America, making this film the most moving and passionate Marvel film to date. I may even call it marvellous.
Your turn!
How many sheep would you give Captain America: The Winter Soldier?