George's 2015 Top 10 (feature)
Immediately after my first meeting with Joseph Belanger, who welcomed me to the BSR family, I left him to sign the paperwork to start a new job in the wonderful world of wine retail. Thinking it would be a fun way to make martini money, I fell in love with the job and it consumed my life – to the point where I only saw 117 movies in 2015, far, far below the usual 300 movies I would generally see in one year. On my days off from work, instead of escaping into the world of film, I would attempt to attack the huge mountain of dirty laundry so high in my bedroom that I expected the von Trapp family to trudge through it, escaping Nazi. So, when it came to submitting my 2015 Top Ten, I was in a quandary. There were so many movies just released that I hadn't seen yet (SPOTLIGHT, THE BIG SHORT, THE HATEFUL EIGHT, THE REVENANT and that intergalactic battle thingy) or have stockpiled next to my mountain of unmentionables (STRAIGHT OUTTA COMPTON, TRAINWRECK, MAD MAX:FURY ROAD, SICARIO). With apologies to those movies, I humbly submit my list: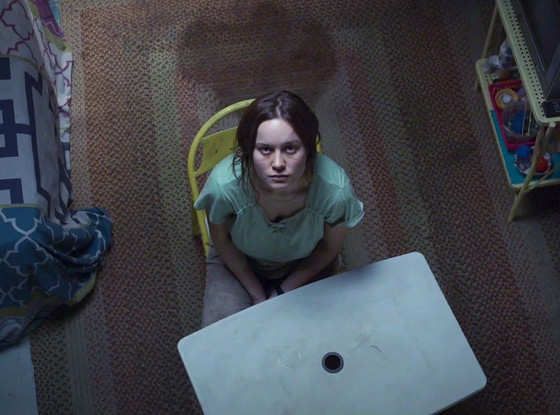 1. ROOM
ROOM is a perfect movie with two perfect performances. It is beyond profound and moving, it has been tattooed in my brain and heart since I saw it at TIFF. To see this bond between a mother and her son through the eyes of a child is mesmerizing. I hope Brie Larsen has her Oscar acceptance speech for Best Actress memorized down to a tee and I am still in awe of what young Jacob Tremblay was able to accomplish. I cannot wait to watch and savour this movie again and again.
2. SON OF SAUL
Unlike the aforementioned ROOM, it will be a long time before I can muster up the courage and fortitude to watch this unflinching look at life in Auschwitz again. The horrors are too real, the ideologies too obscene, the inhumanities too incomprehensible for me to fathom. I can't even write about SON OF SAUL anymore as it takes me to dark and painful places, but I am forever grateful for having seen it.
3. THE YOUNG AND PRODIGIOUS T.S. SPIVET
Yes. Not only has no one seen THE YOUNG AND PRODIGIOUS T.S. SPIVET, most people haven't even heard of it. But director Jean-Pierre Jeunot (AMELIE) took me into a 3D fantasy land of science, bizarre plot twists, hobos, exploding toasters and the best performance from Helena Bonham Carter in years.
4. BROOKLYN
I was swept away with the romance of BROOKLYN and it moved my old, cynical heart. As a young Irish immigrant looking to improve her life in Brooklyn in the 1950's, Saoirse Ronan is beguiling as the young girl torn between two lovers. Relative newcomer Emory Cohen impresses and Julie Walters steals every scene she is in.
5. JAMES WHITE
Moody. Hedonistic. Melancholy. JAMES WHITE features a stunning, letter perfect performance from Christopher Abbott in the title role and brilliantly supported by Cynthia Nixon (SEX AND THE CITY) as his mother dying of cancer.
6. ME AND EARL AND THE DYING GIRL
Speaking of dying, this spunky, innovative and beautifully original take on teenagers and movie-making and death and everything in between grabbed me immediately and, like in the grip of a pitbull, never let me go. ME AND EARL AND THE DYING GIRL is hugely entertaining and heartbreaking.
7. THE LAST 5 YEARS
Even though I saw THE LAST 5 YEARS last year at TIFF, it was released theatrically in 2015 and it is the best movie musical I have seen since CABARET. How this movie and its stars, Anna Kendricks and Jeremy Jordan, were ignored by the Golden Globes that actually HAS a category for Best Musical/Comedy is beyond ridiculous.
8. THE DANISH GIRL and EX MACHINA (tie)
Two words: Alicia Vikander. Okay. Okay. Eddie Redmayne is also brilliant in THE DANISH GIRL and the special effects and original story line in EX MACHINA are outstanding but it's all about Alicia Vikander. I want to sing an aria to that name. Or, better still, I want to hold hands with Jeremy Jordan as HE sings an aria to the name Alicia Vikander!
9. CAROL
Elegant. Languid. Melodramatic. Sensual. Cate Blanchett is in full blown Joan Crawford mode and Rooney Mara gives the most brilliant, subtle performance of the year in a story about a love that dares to speak its name. CAROL is yet another victory for director Todd Haynes.
10. THE MARTIAN
I honestly didn't expect THE MARTIAN to be this funny. Let's face it, one doesn't equate director Ridley Scott with mirth! This is Matt Damon at his most charming and relaxed; he must have gotten pointers from George Clooney. Jessica Chastain looks relieved to be in a space movie that is not a self-absorbed, pretentious dud.
Honorable mentions:  INSIDE OUT, STEVE JOBS, GOING CLEAR, GRANDMA, TRUMBO
As a long-time fan and admirer of Joe Belanger's work (I actually followed his reviews in The Hour when I was back in Montreal), I am saddened that he won't be sharing his gift with words anymore, but genuinely thrilled to know he is off to bigger and better. As someone who is personally going through a new rebirth and reinvigoration of my life, I know Joe will not only succeed in finding that elusive joy and perfection, he will thrive and bask! To my fellow contributors to the BSR site – dammit, you're all so good. I can't tell you how intimidating it was for me to submit anything on par with your brilliance. To the readers who took the time to read my work here, a heartfelt thank you.