HAUTE CUISINE (review)
HAUTE CUISINE
Written by Etienne Comar and Christian Vincent
Directed by Christian Vincent
Starring Catherine Frot, Arthur Dupont and Jean d'Ormesson
Le President: Give me the best of France.
Whatever you do, do not go see HAUTE CUISINE on an empty stomach. I learned this the hard way. Watching Catherine Frot's Hortense cook lavish meals for the French President (Jean d'Ormesson) is an absolute treat, and is guaranteed to make you leave the theatre craving some grade A French cuisine.
The film tells the true story of Danièle Delpeuch, renamed Hortense Laborie in the film, and her short stint as the French President's personal chef in the Elysee Palace. HAUTE CUISINE opens with Hortense working as the chef for a group of all-male scientists in Antarctica. Amidst conversation between the men, it is revealed that a few years prior she worked as the French President's personal chef. They do not know why she worked there for such a short time, but one speculates that she and the president had a short-lived affair. The film than goes back to the day Hortense was summoned to be the President's personal chef. Quickly upon arrival to the palace, it is made clear that Hortense will be the only woman on the entire cooking staff. She is initially confused and worried because no one makes her aware of what foods the President likes. She is left alone, with only the help of a young sous chef (Arthur Dupont), to cook up the President's meals each day. Things begin smoothly for Hortense, until she gets into a feud with the head of the main kitchen, battling for supplies and menu choices.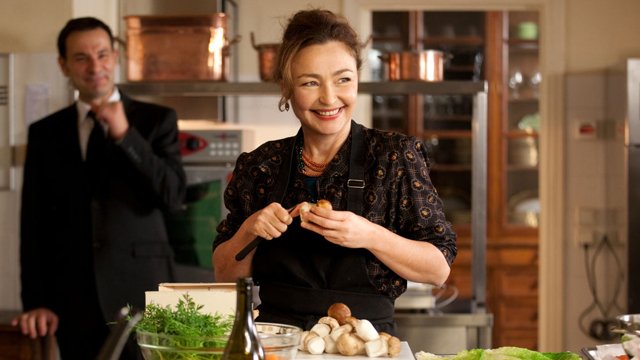 Cristian Vincent's film is heavy on visuals and mouthwatering food, but is unfortunately quite light when it comes to plot and character development. We are given very little backstory to Hotense's life before being hired to cook for the President. She is a strong and likable character, but she does not learn anything or develop throughout the course of the film. The same can be said of the film's other characters as well, which obviously takes away from the film. All the same, while Hortense herself may not be terribly complex, the meals she makes are. Cream of asparagus soup, fillet of beef en croute, and black trumpet mushroom risotto are just a sampling of the meals viewers will get to watch Hortense create in the film. Once one gets over the food though (if they can), and gets past Hortense's charming wit, there is really not much else to chew on, and it becomes evident that HAUTE CUISINE is much more stimulating for the eyes (and stomach), then it is for the brain.
Your turn!
How many sheep would you give Haute Cuisine?