HOTEL TRANSYLVANIA 2 (review)
Directed by Genndy Tartakovsky
Written by Adam Sandler & Robert Smigel
Voices by Adam Sandler, Andy Samberg and Selena Gomez
Mavis: Maybe if Dennis grows up away from Transylvania he won't be so freaky…like me
Dracula (Adam Sandler), Frank, Murray, Wayne, Griffin (the "Drac pack") and the rest of the crew of not-so-scary monsters are back in HOTEL TRANSYLVANIA 2, the second instalment of director Genndy Tartakovsky's animated film series about a castle-style inn run by the world's most famous vampire.
Picking up soon after where the first left off, Drac's daughter, Mavis (Selena Gomez), and her human "zing" Johnny (Andy Samberg) are ready to walk down the aisle. Much has changed at Hotel Transylvania, with the castle now open to human clients. Johnny is even teaching his future father-in-law how to text. All seems well insofar as the coexistence of monster and human is concerned.
Fast forward through Johnny and Mavis' first couple of years of wedded bliss and baby Dennis is the hotel's newest resident. As time goes by, "Vampa" Drac grows increasingly concerned when Dennis sprouts teeth, not fangs, and a sweet, not scary, disposition. Drac soon goes from concerned to panic-stricken when Mavis starts talking about relocating her little family closer to her in-laws' home in California, somewhere much "more human" and safer for Dennis. Convincing Johnny to take Mavis on a visit to the US to check out their potential new home, Drac plays babysitter and uses the time to enlist Dennis in monster boot camp in one last-ditch effort to prove that the little one is more like him than he seems.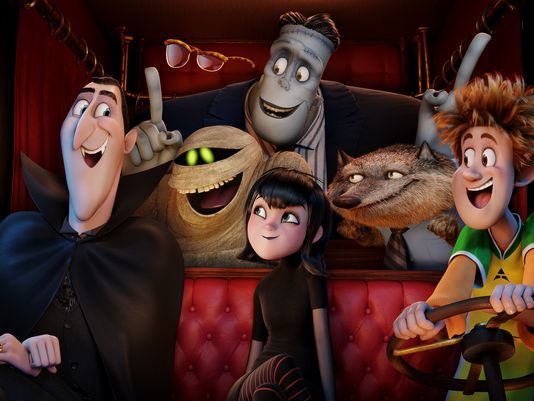 In addition to Sandler, Gomez and Samberg, HOTEL TRANSYLVANIA 2 sees the return of the first film's voice actors Kevin James, Steve Buscemi, David Spade and Fran Drescher, with new cast additions like Nick Offerman (Parks and Recreation), Megan Mullally (Will & Grace) and Mel Brooks. Offerman and his real-life wife Mullally play Johnny's parents, good-natured humans trying to adjust to the fact that their new daughter-in-law is a vampire. Brooks is Vlad, the father that Drac dare not call upon because of his unacceptance of humans. These new characters serve to shake up the film's comedy a bit, so we're not stuck with regurgitated "I do not say 'bleh bleh bleh'" jokes for the full 90 minutes. Throw in some classic "old people don't know technology" humour, and the script, although nothing new, is not half bad. While it arguably lacks some of the charm that marked its predecessor, and (understandably) much of the novelty, HOTEL TRANSYLVANIA 2 has an adequate pace and is quite decent as far as sequels go. And it's certainly entertaining enough for both parent and tot, be them human or vamp.
Your turn!
How many sheep would you give Hotel Transylvania 2?