SPIRITED AWAY (review)
SPIRITED AWAY
Written and Directed by Hayao Miyazaki
Director Hayao Miyazaki is responsible for some of the most acclaimed animated films of all time. Perhaps the only animation studio regarded as highly as Pixar, Miyazaki's Studio Ghibli has exported hit films such as PRINCESS MONONOKE and HOWL'S MOVING CASTLE. Yet, none is perhaps as highly regarded as the auteur's 2001 film SPIRITED AWAY, just released on Blu-ray for the first time.
Winning Miyazaki his only Oscar (he was also awarded the honorary Oscar at the 2015 ceremony), SPIRITED AWAY follows the surreal adventure of a young girl named Chihiro (voiced by Rumi Hiiragi). After making a wrong turn on the way to their new home, Chihiro's parents decide to pull the car over and explore their surroundings. After crossing a dark tunnel, the three find themselves in a seemingly abandoned amusement park. The family stumbles upon an abandoned buffet, filled with a mouthwatering selection of fresh food. Chihiro watches as her parents pig out on the offerings, deciding not to partake. She goes for a short walk, and returns to find her parents literally turned into pigs. This begins Chihiro's journey in the strange land ruled by Yubaba (Mari Natsuki), a large and stubborn older woman. With the help of Haku (Miyu Irino), Chihiro must satisfy Yubaba to break the spell cast on her parents and return home.
With the Disney label now attached to it, one would expect SPIRITED AWAY to be a children's film. I remember watching the film when I was eight and being absolutely terrified. Now, fourteen years later, SPIRITED AWAY still scares the crap out of me. Though the plot itself is simple enough for a child to follow, Miyazaki packs the film with gorgeous imagery and intense psychological themes that make it even more enjoyable for adults.
In a time when almost all animated films are created on computers, Miyazaki has drawn SPIRITED AWAY entirely by hand. The result is not only a meticulously detailed film, but also a visual portrait that truly compliments its setting and story. Though incredibly fantastical, the film's fantasy world has shades of the Japan seen in the films of Yasujiro Ozu. Thus the retro hand-drawn style is welcome.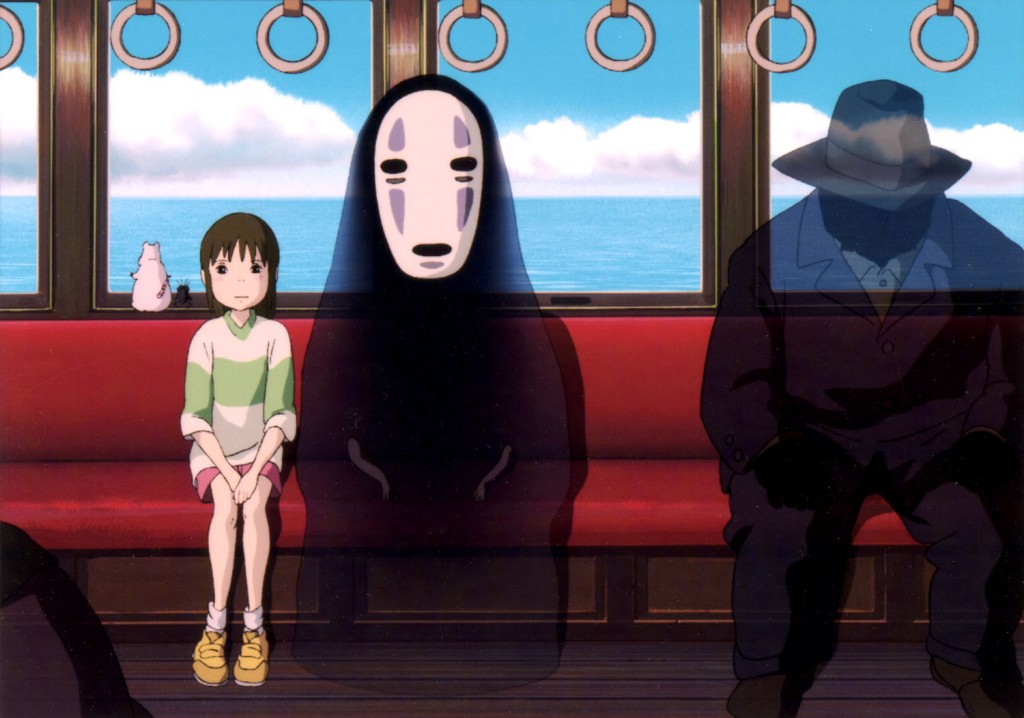 While SPIRITED AWAY has much to say about capitalism in Japan, its heart transcends the country's borders, making it equally accessible for all. The film begs to be analyzed, and each viewer who chooses to do so will come away from it with different ideas on loss, love, and loyalty. Holding up nearly fifteen years since its release, SPIRITED AWAY is an absolutely brilliant film, and is certainly one of the best animated films ever created.
Your turn!
How many sheep would you give Spirited Away?