THE BLACK SHEEP INTERVIEW: BRIE LARSON (ROOM)
An interview with ROOM actress, Brie Larson.
My first impression of Brie Larson upon meeting her was that she was incredibly beautiful, both inside and out. Not only was she physically striking but she insisted on sitting on the floor instead of sitting on a high chair that would have had her towering above all of the journalists in the room for our interview. Before the interview was over, she almost had me in tears.
Tears would have been fitting considering we were there to discuss her role in ROOM, the Lenny Abrahamson (FRANK) film that won the People's Choice Award at this year's Toronto International Film Festival. ROOM is based on the popular novel of the same name, written by Emma Donaghue, who also wrote the screenplay for the film. Larson's experience with the book is probably just like yours too, if you've read it.
"I just devoured it," Larson divulges when we meet at the TIFF press day. "I think I read it in a day. I had so much anxiety. I remember pacing my bedroom. I was in tears. I hadn't cried over a book since I read Where the Red Fern Grows in fourth grade."
ROOM tells the story of a young girl (Larson) who is kidnapped when she is 17 years old and kept in a tiny shed for seven years. Two years in, she has a child with her captor. The film picks up on the young boy's fifth birthday. The boy, Jack, is played by 8-year-old Vancouver native, Jacob Tremblay.
"I've never worked closer with any actor than I have with Jacob. There's no other movie I've done where I've done more scenes or spent more time with any one person. I can't think of a better person to have gone on that journey with."
Speaking of said journey, both actors have to go to very dark places in the film and both could find themselves much discussed come awards season for having gone there so successfully. Working with a child actor is no easy feat though and pulling this particular performance together relied heavily on their chemistry.
"When Lenny and I first met and talked about this project, before Jacob was cast, we had discussed the concept that once we got the kid, we would have to work together as a team to create situations in order to try and trick this hypothetical boy into a performance. Instead we found a kid who is actually a legitimate actor. My performance exists due to him. So much of it was me playing off of him and feeling such deep love and care for him. That's what the movie is rooted in."
Still, it can't be easy to pull that kind of natural emotional resonance out of a child while still trying to give your all to your own performance. Larson attributes her success with striking this balance to one particular attribute of Jacob's.
"It really helped that Jacob is a really good listener. That's what makes every scene work, when you're working with another actor, is when they're really listening to you," Larson explains. You can tell that she was both challenged and fulfilled by her work on ROOM and her experience working with Jacob and Lenny. "I am not someone who plans out what they're going to do. It becomes an awkward situation if you're working with an actor who only knows how to say each line one way because they've rehearsed it to get to this perfect point. That's part of the beauty of working with a kid. They don't have anything prepared; they're just listening and they're just talking. So you can have a very real conversation that's happening organically and naturally and it just sort of is. It's just a dance."
When asked to elaborate on this particular dance, Larson gives this insight. "It became this dance between the two of us that really only I could do because it got too chaotic when too many people were coming into it. I knew where the scene was supposed to go and I would help him understand. It was just about creating this focus between the two of us. The tricky part on my end was I am of course doing my own emotional scene at the same time so I had to learn how to basically hold a tear, hold emotion, and wait for him to get where he needed to be and then keep going."
Larson has been registering just under the radar in Hollywood for some time now, having had a creative breakthrough recently with her critically acclaimed turn in SHORT TERM 12, followed by her pivotal role opposite Amy Schumer in this summer's comedy hit, TRAINWRECK. If ROOM strikes the right chord with audiences, we could be seeing a great deal more of her. Hers is a mother that all mothers will see a part of themselves in.
"I was overwhelmed with the initial aspect of it but it became a very simple thing to break down, to find her," says Larson of how she first approached the character that could change the course of her career. With the novel told from the perspective of the child, Larson had a lot of work ahead of her too. "The beauty and the curse of the novel is that she's just an essence. There's nothing fully developed about her. She's just this glowing, ethereal mother to him. You don't really see any of the darkness or sadness in her. The great opportunity that I had was to personify and bring dynamic aspects to her and show some of the traumas that were going on underneath the surface, and her incredible ability to hold it down."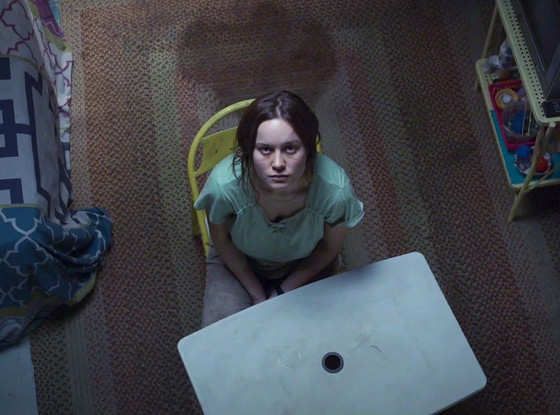 Regardless of what happens, Larson will never be the same again for having made ROOM. And those who see it, won't be the same for having seen it either.
"Once we were in Room, once you walked through that door and you closed that door, something happened. You're just kind of transported into another spot. And the good news is the door was not always locked and I could leave and I could go home."
The good news for us is that she went there to begin with. ROOM is now playing in select cities.