The BSR Top 100 (80-71)
Black Sheep Reviews both recently celebrated its 10-year anniversary and simultaneously announced that it would be ending its run before the year is out. As a way of honouring that time and all the incredible experiences that came out of it, as creator, editor and chief film critic at BSR, I give you my favourite 100 films from what I am lovingly calling The Black Sheep Era, which is a fancy way of saying films released between 2005 and 2015.
This series will run every weekend, showcasing 10 films at a time. It will finish in December, just a couple of weeks before Black Sheep Reviews will run its final review. I hope some of these films mean as much to you as they do to me.
# 80  LES MISERABLES (2012)
Les Mis was the first musical I ever saw on stage as a young boy in Montreal. I recall very clearly listening to the cast recording incessantly for weeks after seeing it, sometimes while doing chores, as if I was some filthy, orphan peasant, just like Cosette. Naturally, my hopes were very high for the film adaptation and they were (mostly) met in the end. Sure, it isn't perfect but director Tom Hooper makes LES MISERABLES, one of Broadway's grandest of shows, into an incredibly intimate film experience. Having the actors sing live on set gives the film a sense of immediacy and spontaneity that is as close to a stage experience as once can expect from celluloid.
Mouton d'Or Award nomintations: Best Big Movie, Readers Choice, Best Music, Supporting Actress (Anne Hathaway), Actor (Hugh Jackman)
Mouton d'Or Award wins: Supporting Actress (Anne Hathaway)
# 79  STRANGER BY THE LAKE (2013)
I first caught this French thriller at TIFF. It was my final film of that particular festival and it resonated with me more than most of the films I saw that year. STRANGER BY THE LAKE takes place at a gay cruising beach. While most of the men retreat to the woods for anonymous sex, hoping not to run into each other again after they're done, one man sees the potential for more in one of his random partners. Then he sees that same man drown someone he was sleeping with in the lake. Despite this, he pursues him romantically all the same. Director Alain Guiraudie captures the repetitive and empty nature of this kind of sexual interaction perfectly and in doing so, also demonstrates a rarely heard yearning for more beneath it all. The film gives new meaning to how far some people will go for love.
# 78  SIN NOMBRE (2009)
I was a big champion of SIN NOMBRE when this small immigration film came out in 2009 and launched the career of then unknown Cary Fukunaga. You may know him more as the creator and director of the first season of True Detectives. And while I never connected with that series, I was so moved and so impressed by his work here. I think this had a lot to do with how invested Fukunaga was in telling the story of two young people who fall for each other while trying to get into the United States, having gone to Mexico and spent time with real people trying to get across . They are making the journey for very different reasons but their connection is undeniable and allows for them to find solace in an otherwise frightening world.
Mouton d'Or Award nominations: Best Little Movie
Note: Best First Feature was not a category at the time in case you're wondering why this debut wasn't nominated for it.
# 77  BABEL (2006)
I have issue with BABEL but I am also enamoured with it. Alejandro González Iñárritu's 2nd Hollywood feature is often times mesmerizing and equal parts heartbreaking. It is a mood film that is impeccably designed to challenge our understanding of communication. I do feel that the film tries to take on to much and is unwieldy at times but all in all quite satisfying as well. This is in great part thanks to fantastic supporting turns by Rinko Kikuchi and Adriana Barraza. Iñárritu makes three appearances on this list and this is his first. Watching his evolution as a filmmaker over the past decade has been a great privilege.
Mouton d'Or Award nominations: Supporting Actress (Rinko Kikuchi), Original Screenplay, Best Director
Mouton d'Or Award wins: Supporting Actress (Rinko Kikuchi)
# 76  THE ARTIST (2011)
It is easy to dismiss THE ARTIST as gimmick of a film but the truth of it is, anyone interested in relying on gimmick would never be able to put in the kind of work that was required to make THE ARTIST as magical as it was. The fact that director Michel Hazanavicius was able to make a charming black and white, silent picture and turn that into an Oscar winning hit is an incredible success story all unto itself. I remember interviewing star Jean Dujardin at TIFF when this movie came out. Funny story; my recorder stopped recording half way through the interview and I didn't realize until the interview was over. Fortunately, Dujardin had done the interview in French and that was being translated for me by an interpreter. This is how I justified paraphrasing all of his quotes when it came time to write the piece. I figured if all the quotes weren't coming directly from him to begin with, then I had a little leeway there.
Mouton d'Or Award nominations: Readers Choice Award, Best Looking Movie, Best Music, Actor (Jean Dujardin), Original Screenplay, Best Director, Best Picture
Mouton d'Or Award wins: Best Director
# 75  THE QUEEN (2006)
I wrote this review when I still disliked my day job a great deal. I remember calling in sick from work that day so that I could see THE QUEEN on opening day and write about it as soon as possible because I deserved that; my readers deserved that! I think it's very cute that I actually thought I had readers at that time who were waiting desperately for my opinion on anything. Still, I was a determined young man and I wanted Black Sheep Reviews to succeed. I'm glad I played hooky actually because I ended up seeing one of the best films that year, which featured a career defining performance from Helen Mirren. Together, Mirren and director Stephen Frears, give the audience a queen that is more human and more relatable than the real one.
Mouton d'Or Award nominations: Supporting Actor (Michael Sheen), Actress (Helen Mirren), Original Screenplay, Best Director, Best Picture
Mouton d'Or Award wins: Original Screenplay, Actress (Helen Mirren)
# 74  STEVE JOBS (2015)
And here we have yet another true story that takes an awful lot of liberties with reality to tell an incredibly fascinating tale. No conversation that takes place in writer Aaron Sorkin's script for STEVE JOBS likely took place but this is of no consequence. The audience is treated to sumptuous wordplay exchanged between an ensemble of very talented thespians and every word uttered enlightens us about the film's subject but also the man's philosophies and takes on the world around him, one that he helped to shape. I cannot quite understand why this film has failed to connect with audiences and I am sad that people are missing out on its genius. Hopefully it finds its place in awards season and this helps put its brilliance in front of more eyes. Or maybe Apple can force it into everyone's libraries without asking first.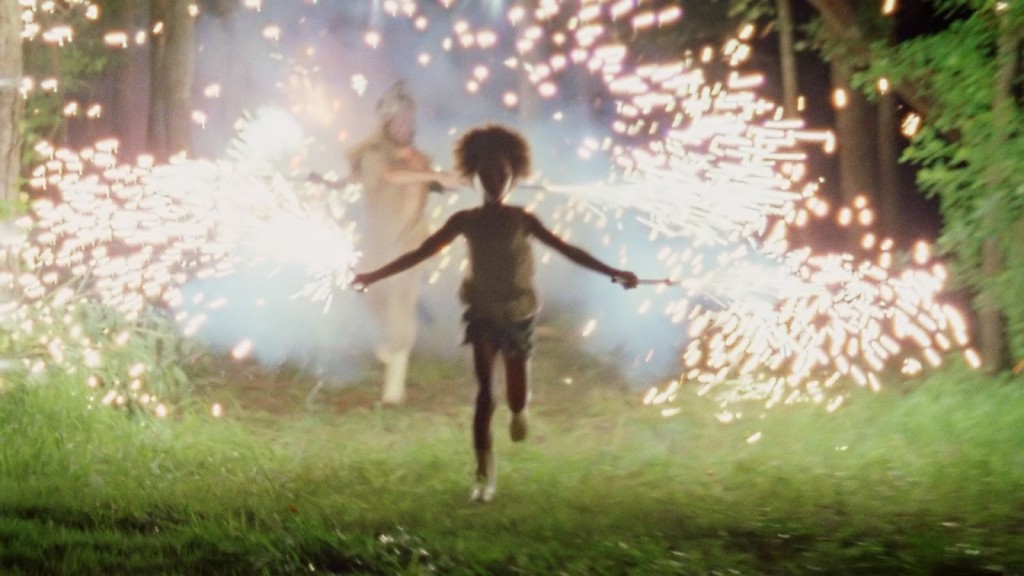 # 73  BEASTS OF THE SOUTHERN WILD (2012)
When you're a film critic, you see a lot of movies. And when you're a film critic for a long time, some of those movies start to all look alike. Every now and again though, a film comes along that knocks you off your feet and reminds you why you wanted to start writing about film to begin with. In 2012, BEASTS OF THE SOUTHERN WILD was that film for me. Benh Zeitlin's little film that could did so much with so little and was so incredibly innovative and honest and brave that I actually described it in my original review as an instant American classic. To put it simply, it is a beast of a film.
Mouton d'Or Award nominations: Supporting Actor (Dwight Henry), Actress (Quvenzhané Wallis), Adapted Screenplay, Best First Feature, Best Picture
Mouton d'Or Award wins: Best First Feature
# 72  INSIDE OUT (2015)
I've since seen INSIDE OUT again since initially compiling this list. I cried a fair bit more on second viewing so perhaps this film could have ended up even higher on the list had I watched it again prior. Still, it is here and I will celebrate it. I celebrate INSIDE OUT for its unbelievable creativity and for the important messages it shares with all who see it. Pixar and director Pete Doctor toiled over this one and its good that they did. They managed to somehow conceptualize an entire story that takes place in one person's mind. And not only does it come across as natural but it is great fun and quite touching as well. In the end, we learn not to fear sadness, that sometimes we need to feel things that are unpleasant in order to derive more joy from life. Also, like Riley, the little girl who's mind plays home to all of these emotions, we too can come back from crisis and when we do, we will be better people for having lived through it.
# 71  MOONRISE KINGDOM (2012)
MOONRISE KINGDOM is the perfect example of how one can be wrong the first time around. When I first saw this wonderful Wes Anderson film, it wasn't what I wanted it to be. I am usually pretty good at tempering my expectations for a film before seeing it but every now and then, I falter. I'm human after all and I wanted this film to focus on the adult cast so when it didn't, I couldn't really get my head back into it. It didn't help that I also had a massive headache when watching it. I decided to give it another go at home and was totally taken with it. I ended up completely rewriting my review and calling it one of the finest films of that year. Let this be a lesson to us all; it is much easier to enjoy something when you allow it to be what it is instead of wanting it to be something it isn't.
Mouton d'Or Award nominations: Best Looking Movie, Best Music, Original Screenplay, Best Director, Best Picture 
Mouton d'Or Award wins: Original Screenplay
Thus concludes the third instalment in our BSR Top 100 series. We will be back next weekend with ten more films, including the one where another teenager dies of cancer, the one where Cate Blanchett totally loses it and the one with the dreams within dreams within other dreams.
In case you missed numbers 100-91, check them out here!
And here's numbers 90 through 81!
Loading ...