THE HUNGER GAMES: MOCKINGJAY PART 2 (review)
THE HUNGER GAMES: MOCKINGJAY PART 2
Written by Peter Craig and Danny Strong / Directed by Francis Lawrence / Starring Jennifer Lawrence, Liam Hemsworth and Josh Hutcherson
Katniss Everdeen: No more games. He needs to see my eyes when I kill him.
Everything has been building to this. The war you have been waiting for – well, the war you were made to wait for in the last instalment of this series – has finally arrived. Rest assured though, THE HUNGER GAMES: MOCKINGJAY PART 2 makes up nicely for teasing its epic finale without ever giving you a real taste; it gives you high stakes action; it gives you unexpected compassion and caring; and it keeps you guessing (presuming you're in the minority of people who watch these films who haven't already read the books several times). And while I never feel that the franchise has ever truly recaptured the greatness of the first film (the only one not directed by Francis Lawrence, but rather by Gary Ross), MOCKINGJAY PART 2 is easily the second best of the four and makes for a very satisfying end to the series. Oh, and we get to see which boy she picks too!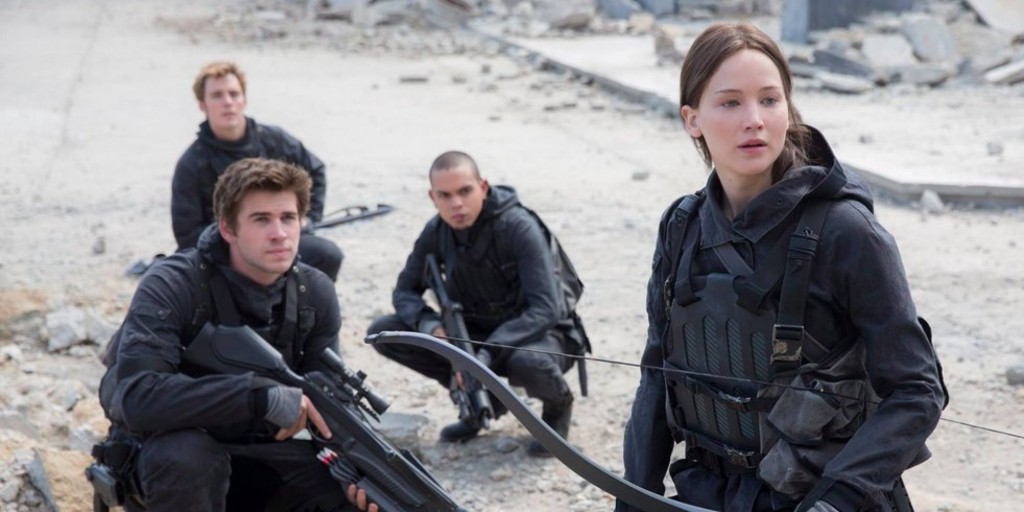 In case you don't recall where we last left off, Katniss Everdeen, aka The Girl on Fire, aka The Mockingjay, aka Jennifer Lawrence has been trading online jabs with President Snow (Donald Sutherland), who allowed one of her love interests, Peeta Mellark (Josh Hutcherson) to be rescued from his prisons only so he could then try to kill Katniss, as he has been reprogrammed. It sounds a bit silly but it still works dramatically; Peeta has always had Katniss's back and now she literally has to watch her back or he might sneak up behind her and snap her neck. Anyway, now that the rebels have all the support they need across the districts, they unify as best as possible to take on the Capital. Katniss, along with trusty sidekick Gale (Liam Hemsworth) take to the front lines, which are peppered with plenty of pods (more or less just elaborate traps), to find Snow and kill him outright.
If this sounds like a different kind of Katniss, it is. She had to be pushed to this level and I don't think anyone could argue that she hasn't been through more than her fair share of hardship. And despite how hard she has had to become on the outside, her heart shines through a great deal in MOCKINGJAY PART 2. I've always admired Katniss as a heroine and role model. Author Suzanne Collins wrote her as relatable but also as empathy incarnate, a sentiment that Lawrence inspires with ease. She has lived through the Hunger Games and knows just how personal it is to kill another person, but even she isn't prepared for the magnitude of death and violence that she has unwittingly inspired. She has never been comfortable with her role in the war but early on in this film, she comes to terms with what she finally sees as necessary. Still, she takes none of this lightly and takes on this suffering as if it were her own. Katniss feels all and this is one of the reasons she is so loved.
I expect that fans of THE HUNGER GAMES will rally behind this film, but in case there is any fear that MOCKINGJAY PART 2 doesn't deliver, there needn't be. At one point, the entire Capital is like one big gaming arena, danger waiting around every corner (including some really horrifying things called mutts) . And while I don't think there is any doubt in any one's mind about how Katniss's mission will end, how she gets there is still fairly surprising, which is what gives THE HUNGER GAMES that edge it has over all the other dystopian tween movies that have tried to attain one tenth of its stature and success. Sure, she still has to pick between two boys in the end, but Katniss never loses sight of the bigger picture, choosing love only after the war is done. And while some will argue that this takes away from her power, those of us that admire Katniss know just how hard choosing love is for her; that she would only choose it if there were peace in the world and that in doing so, she becomes stronger still. May the odds be forever in her favour.
Your turn!
How many sheep would you give The Hunger Games: Mockingjay Part 2?