THE JINX: THE LIFE AND DEATHS OF ROBERT DURST (review)
THE JINX: THE LIFE AND DEATHS OF ROBERT DURST
Directed by Andrew Jarecki / Written by Andrew Jarecki, Marc Smerling & Zachary Stuart-Pontier / Featuring Robert Durst, Andrew Jarecki & Jeanine Pirro
Detetective Cody Cazalas: There's not a doubt in my mind that Bob Durst has killed at least three people.
In 2008, director Andrew Jarecki began filming his first narrative feature – ALL GOOD THINGS, starring Ryan Gosling and Kirsten Dunst. That film is based on the life of New York real estate magnate Robert Durst and the notorious unsolved case surrounding the 1982 disappearance of his wife Kathie, in which he has been the prime suspect for three decades. The film (released in 2010) was met with something of a tepid response from both critics and viewers alike.
It did have one unlikely fan of note though: Robert Durst. Upon viewing the movie, Durst contacted Jarecki, who had been nominated for an Academy Award for another disturbing documentary, CAPTURING THE FRIEDMAN'S,  to offer himself up as an interviewee should the director be interested. Naturally, he agreed and ended up filming several hours' worth of footage.
This interview footage, combined with what he accrued for the film, led to Jarecki's extraordinary documentary miniseries THE JINX: THE LIFE AND DEATHS OF ROBERT DURST, which aired on HBO this past February and March. Incredibly in-depth, the series' six parts examine everything about the man – from his childhood trauma and family issues to the role he potentially played in not one, but three murders, as well as efforts by the New York, Los Angeles and Galveston justice systems to hold him accountable.
Episode 1 ("A Body in the Bay") begins in 2001 with the discovery of a torso floating in Texas' Galveston Bay. A sweep of the water uncovers more body parts and the ensuing investigation eventually leads them to one Robert Durst – neighbour to the dismembered victim and someone who, as it turns out, has been a long-time person of interest in the 1982 disappearance of his wife.
Durst's wife and neighbour were not the only ones to have tragedy befall them. His best friend, writer Susan Berman, was founded murdered in her Los Angeles home in 2000 – soon after she had been contacted by the LAPD concerning Kathie's disappearance. A whole lot of coincidence and no tangible evidence (combined with a ridiculous 2003 trial in Texas) ultimately accounted for why Robert Durst was so readily available to be interviewed.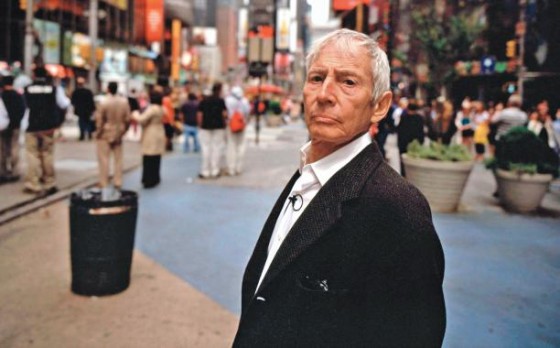 Additional interviews with the victims' family members and friends, the various police departments and attorneys involved in his cases and members of the Durst family round out the series whose real appeal lies in the fascinating dynamic marking Jarecki's and Durst's interaction. It's positively intriguing to watch the quirks and offbeat mannerisms of the suspected serial killer and glean an insight into his thought process – and witness Jarecki call him out but also be oddly drawn to him at the same time.
And if the journey isn't enough to entice you, there's one hell of a gem at the end, which, if you were paying attention to the news mid-March won't be much of a shocker. Even so, to watch the events triggered by this miniseries unfold is quite staggering. THE JINX is definitely not your average true crime documentary.
THE JINX is available on iTunes now and is coming to BR/DVD this fall.
Your turn!
How many sheep would you give The Jinx?