Written & Directed by M. Night Shyamalan
Starring Olivia DeJonge, Ed Oxenbould & Kathryn Hahn
Mom: They're just weird people, honey.
For the last several years now, all you have to do is drop the name "M. Night Shyamalan" and the opinionated clucking begins. "Such a shame", "What happened to that guy?" Even just a simple "Yikes" has become routine. And fair enough – even his most dedicated fans started to waiver with each passing flop and the growing difficulty involved in defending his increasingly odd choices.
But there's no denying he's a gifted writer and director, who had the bittersweet misfortune of launching his career with a stellar film that highlighted an incredibly unique style. It's been 16 years since THE SIXTH SENSE. How do you sustain that kind of success once the audience is in on your method? He was doomed to become his own worst enemy, and films like THE HAPPENING and AFTER EARTH just proved to be the last straw for many.
Then the trailer for THE VISIT was released and the glimmer of hope arose. Equal parts creepy and campy, the video promo depicted something of a twisted fairy tale that just might be…good.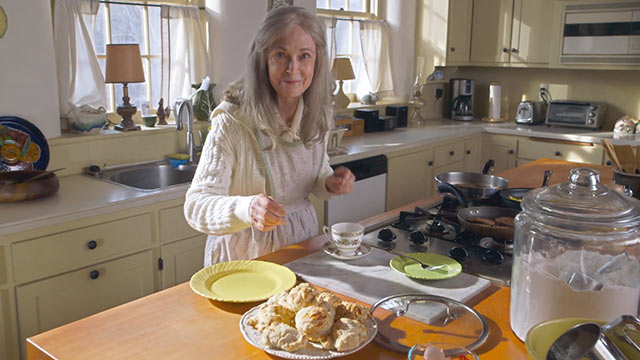 The trailer does not lie – THE VISIT certainly is both creepy and campy. It tells the story of two young teens, Becca (Olivia DeJonge, THE SISTERHOOD OF NIGHT) and Tyler (Ed Oxenbould, ALEXANDER AND THE TERRIBLE, HORRIBLE, NO GOOD, VERY BAD DAY), who are invited to their grandparents' house for a weeklong visit. Long estranged from her parents, their mother (Kathryn Hahn, THE SECRET LIFE OF WALTER MITTY) is hesitant but doesn't want to deny her kids the opportunity to meet their family. So she sends them off by train, not having to face the awkwardness of their falling out so many years before, and heads out on her own getaway.
Becca and Tyler aren't at Nana and Pop Pop's place for too long before they begin to realize there's something very odd about their grandparents. Told to stay in their room after 9:30 each night and avoid the basement because of mould, Pop Pop's suspicious disappearances into the shed and Nana's wanderings of the house at night raise red flags for the uneasy kids…and as the week goes by, things get all the more weird.
THE VISIT is perhaps even more comedy than it is horror, but beyond either of those, it's just plain fun. The relatively-unknown cast is fantastic, with Oxenbould and his natural approach to a very funny role being a definite highlight. Fingers crossed we see more of this kid. And the story itself is both ridiculous and entertaining.
So does the film mark a "return to form" for its writer and director? It's debatable. The movie is not for everyone and with most awkward genres, some will love it and others will hate it…or at the very least, not see the appeal of it. But maybe what it does mark is a new form for Shyamalan – one where he's truly enjoying himself and just having fun with what audiences have come to expect from his films.
And that's just as good.
Your turn!
How many sheep would you give The Visit?